Creamy Garlic Ranch Dip
A creamy garlic ranch dip with a burst of herby flavor and a hint of garlic!
Ready In:
10min + Chilling Time
Calories:
120 Per Serving
Good For:
Parties, Gatherings, or as a Delicious Snack or Appetizer
This creamy garlic ranch dip is a delightful and flavorful twist on the classic ranch dip. The addition of garlic paste provides a robust garlic flavor that pairs wonderfully with the herby ranch seasoning. It's a versatile dip that complements a variety of snacks, making it a great addition to any gathering or party.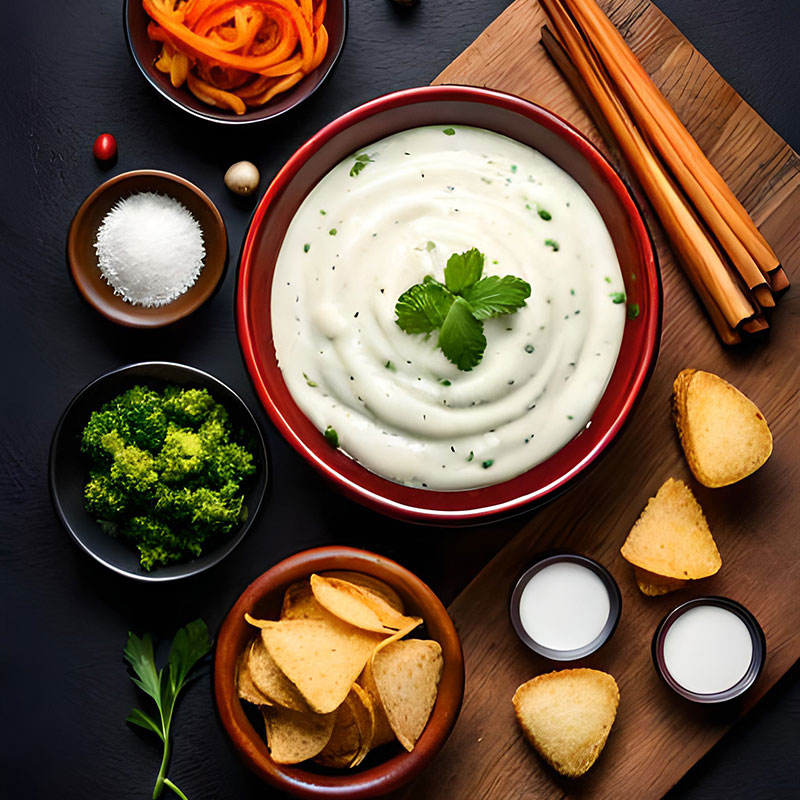 1 cup sour cream
1/2 cup mayonnaise
2 tablespoons garlic paste
2 tablespoons ranch seasoning mix (store-bought or homemade)
1 tablespoon fresh parsley, finely chopped
1 tablespoon fresh chives, finely chopped
1/2 teaspoon onion powder
Salt and pepper to taste
1. Prepare the Base
In a medium mixing bowl, combine sour cream and mayonnaise. Mix well until smooth and creamy.
2. Add Garlic Paste
Add the garlic paste to the mixture and blend it thoroughly. 
3. Season the Dip
Sprinkle in the ranch seasoning mix, fresh parsley, chives, and onion powder. Mix until all the ingredients are well incorporated.
4. Adjust Seasoning
Taste the dip and adjust the salt and pepper to your liking. Remember, the ranch seasoning mix might already contain salt, so be cautious with additional salt.
5. Chill and Serve
Transfer the dip to a serving bowl, cover, and refrigerate for at least 1-2 hours to let the flavors meld. Serve chilled with your favorite vegetables, chips, or crackers.
Pro Tips
For a stronger garlic flavor, you can adjust the amount of garlic paste to your preference.
Make the dip a few hours in advance or even the night before to allow the flavors to meld and intensify.
If you like a thinner consistency, you can add a little milk or buttermilk to the dip until it reaches your desired thickness.
Experiment with different fresh herbs or additional spices to customize the flavor to your liking.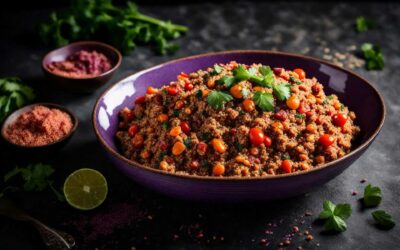 Muhammara Quinoa Salad A fusion of Mediterranean flavors and wholesome ingredients!Servings 4-6Ready In: 45-50 minutesCalories: 350-400 Per ServingGood For: Lunch or DinnerAbout this RecipeThis vibrant Muhammara Quinoa Salad is a fusion of Mediterranean flavors and...
read more
Monday - Friday: 8am –4pm
Call Us
01 242 554 (WhatsApp)
01 242 554 / 01 242 931
70 046 824 (WhatsApp)
Visit Us
Kojababian Bldg, Mimosa St,
Burj Hammoud, Beirut, Lebanon